Today's shoutout goes to another former student who's working toward a career in music. Connor Lazzara, AKA Asxp.Biggie, is a true hip-hop head. Ask him about any prominent figure in rap history. He knows their whole story. That appreciation and passion will definitely guide him to a future in the industry.
---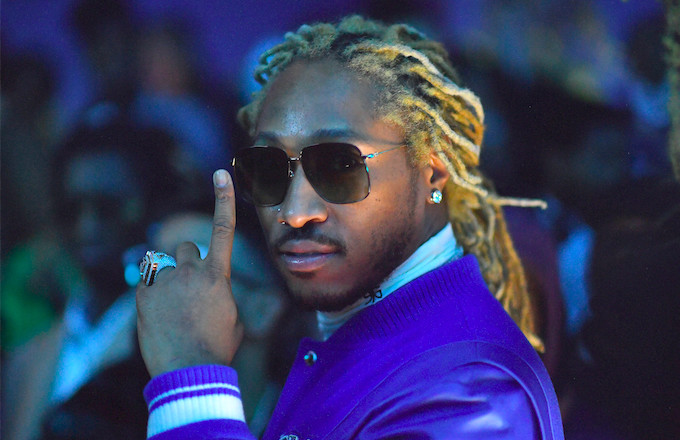 Future – https://freebandz.com/
Born Nayvadius DeMun Wilburn in Atlanta
35
Known for his superhuman work ethic (seven studio albums, twenty mixtapes, sixty-two singles (including forty-one as a featured artist) and sixty-four music videos) — all since 2010!
Favorite Future track/track he's featured on? King's Dead, with Kendrick, the ever-underrated Jay Rock, and James Blake. Honorable Mentions to Mask Off, F&N, and the first three tracks on DS2
Lyrical Analysis
Shotgun is about the intimacy between two people.
New wheels on the 'Rari with your top down (With your top down)
Ten thousand feet up, we get wifi (We get the wifi)
Swap the diamonds out like a montage (Like a montage)
We land the chopper on the front of the yacht (Land the helicopter on front of the yacht)
Obviously this isn't your run-of-the-mill relationship. I certainly don't have a 'Rari, diamonds, a chopper, or a yacht. And if the wind blows, I don't have wifi. But that's Future.
Best Line
Thirty foot ceilings in my glass house (In my glass house)
I like this line so much because, 1. it's almost undoubtedly true, and 2. it's a metaphor for how willing he is open up with this woman. You can see everything in a glass house. For him, he's fine with her looking.
Why I Like It
It's Future doing R&B and doing it really, really well. Much of the credit goes to producers Seth Firkins and Detail. This really is a beautiful track from the moment those drums hit.
---
Jay Som – https://www.jaysommusic.com/
25-year-old bedroom pop/indie rock singer & songwriter
Already has two LPs in her back pocket and a third on the way (August 23rd)
My previous favorite Jay Som track was the mystical, utterly entrancing Turn Into
Here's her performance on Tiny Desk, which is obviously one of the cooler music set-ups on YouTube: Jay Som: NPR Music Tiny Desk Concert
Lyrical Analysis
Superbike is my new favorite Jay Som song.
I theorize it's about a girl who, at a party, believes someone is into her.
Rather than entertain the idea, she gets the heck outta dodge on her superbike.
Now you're waiting in the light
Patiently to my surprise
(Somebody tell me)
I pick up the superbike
Going 80 in the night
(Somebody tell me)
Said you wanted something else
Something new for show and tell
Gonna breathe until you're gone
Gonna breathe until you're
Best Line
I'm not that kind of fool
Who needs to read the room
I have this mentality sometimes. I feel like if people can't adjust to me, that's their fault.
Why I Like It
The multi-minute breakdown at the end. I need to see this live. *checks Pitchfork Festival lineup* I will, July 20th in Chicago! This really went full circle.
---
My AURORA breakdown – https://midnightsurprise.blog/2019/06/07/top-five-tracks-of-the-week-may-27-june-2/
This requires an amendment (AURORA was included in last week's list, and usually I will copy/paste the URL to that so you can be exposed to more music and I won't be redundant) — I cited AURORA as probably the most famous current Norwegian musician. I completely forgot about Sigrid. I'm not sure how to determine who is more famous. AURORA has more Instagram followers; Sigrid has more monthly listeners on Spotify. Neither of those statistics measure that intangible quality of fame. I'd venture to guess AURORA is more recognizable. I mean, you don't really see people who look like her everyday unless you live in the Nordic countries, which they do. . . so I guess what I'm saying is I forgot to mention Sigrid. I love them both.
Also, AURORA covers The Beatles 'Across The Universe' for Like A Version. It's one of the most beautiful songs I've ever heard.
Lyrical Analysis
Daydreamer is an ode to optimism.
Its lyrics use opposites, like day and night, and dreams and reality, to drive home her point: that the intrinsic qualities of life are more significant than the mundane tasks we face everyday.
And we become night time dreamers
And street walkers, small talkers
When we should be daydreamers
And moonwalkers and dream talkers
And we become night time dreamers
Street walkers, small talkers
When we should be daydreamers
And moonwalkers and dream talkers
In real life
Best Line
I hear the quiet, sweet music that no one sings
Why I Like It
Why wouldn't I? The highlight is the first chorus. She transitions from the near-falsetto of the pre-chorus to the chorus so well. The synths work. The background vocals are insanely good. It's just a great song. It's hard to believe there were two songs I liked more this week.
---
Stef Chura – http://stefchura.com/
A twenty-something-year-old indie rocker from Detroit.
After flunking boarding school, she began to focus on music.
She was heavily motivated by the death of her close friend to make a record (she's now made three, and collaborated with Car Seat Headrest's Will Toledo).
Lyrical Analysis
Method Man is about a guy who tends to flaunt his pretentiousness but is the best friend of the narrator.
He is a method man
Sipping on a taurine can
Rippin' up a box of books
He says I'll never understand
Best Line
Shut the door to your mouth
And get the fuck in the car
I mean, obviously. 'Shut the door to your mouth' is as good as it gets.
Why I Like It
It features the indie-grunge equivalent to a beat change at 1:44. It singed my eye brows off.
---
SAMIA – http://www.samiaband.com/
SAMIA is the name of the band that showcases Samia Finnerty, a 22-year-old pistol from New York.
Imagine if someone with the vocal skills of the absolute best divas was in an indie rock band — that's SAMIA.
No further comment, your honor. Just inject this directly in my veins.
Lyrical Analysis
She says it better than I ever could:
"The primary inspiration for this song came from being in social situations and wishing I could perform the way I do on stage. We conceptualized, based on that feeling, a fictional narrative in which my everyday self is desperately in love with and pursuing my stage persona."
The music video hits on this.
Best Line
I made you just me, dignified
It's a poignant line that encompasses the entire theme in six words. A perfect example of effective brevity.
Why I Like It
While the song is undeniably groovy (I'm, of course, referring to the actual groove of the song), the lyrics juxtapose it so well. The whole concept is intoxicating.
---
Honorable Mentions:
The Ballad of the Lonesome Cowboy – From "Toy Story 4" – Chris Stapleton
Head Over Heels – Japanese Breakfast
Dog Inside a Car – Fell Runner