It's officially my favorite time of the year–school is almost back in session.
What ascends this part of the year above all others is what it signals for me and for my students. It's a chance to try something new. It's the time to show everyone what you learned over the summer. It's when everything you were is no longer everything you are. Sometimes there is just nothing better than a fresh start.
And one of the best ways to personify a fresh start is by resetting your classroom.
I've been working like Bobby Berk on how to arrange my room since my incredible juniors left to embark on their last summer before adulthood.
And how appropriate of me to make music a key aspect of this aesthetic. Here is some progress I've made.
I've adhered album covers (the actual records are still in their sleeves and in the black file cabinet) to the top rim of two of the walls in my class. The wall in the back is for student art, so that will remain recordless.
As for the records I have on display, there is quite an array:
Let's Eat Grandma, Perfume Genius, Snail Mail, Charly Bliss, Weyes Blood, Kacey Musgraves, Lorde, Vampire Weekend, The Killers, Footloose, Bon Iver, Pedro the Lion, Iron and Wine, Volcano Choir, Daughters, The Ramones, Arcade Fire, My Chemical Romance, Eagles, Built To Spill, Weezer, The Strokes, Girls, Elton John, and Pink Floyd.
I've only done a third of the left wall, so expect to see some Beatles (Revolver), Carly Rae Jepsen, Jackson Browne, and more.
---
Marika Hackman – https://twitter.com/MarikaHackman
A 27-year-old English songwriter, multi-instrumentalist, and former bandmate of Cara Delevingne

The pair were a short-lived cover band, with Delevingne singing and playing guitar and Hackman playing the drums

Currently signed with Sub Pop
Dating Amber Bain (The Japanese House)
Lyrical Analysis
Remember that day when we'd never met and you begged me to ruin your life?
Best Line
I think it's okay that I'd rather stay and work my way along your spine
What Makes It Stand Out
I knew I loved it from the first time she sings that note at :11. But as the song progresses, and the narrative progresses, the musicality does too. Those strings at the end, some orchestral, some fuzzy reverb, highlight the paradoxical nature of sex. It's as brilliant a song as it is sexy.
---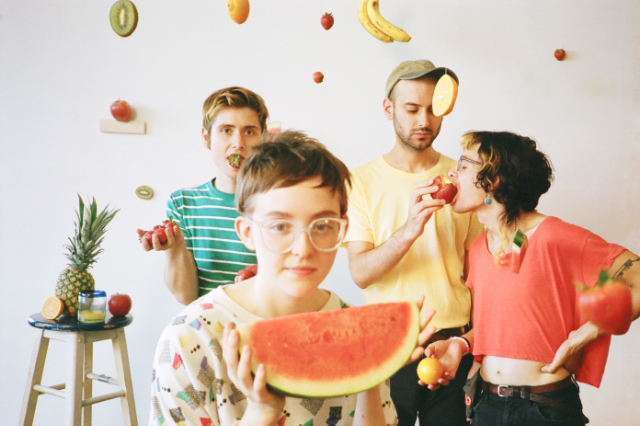 Florist – https://twitter.com/emyspraguemusic
An American indie-folk band from Brooklyn (this album is a solo project, under the Florist moniker, by Emily Sprague)
Their newest LP, Emily Alone, is really good–Pitchfork agrees
I actually had a chance to see Florist in 2017. Florist, Lomelda, and Pinegrove each performed at 89th Street in OKC. I, unfortunately, ran late. I only got to see one song of Lomelda's set (luckily, my favorite–Bam Sha Klam) and all of Pinegrove's set. Totally whiffed on Florist.
Lyrical Analysis
Celebration is a song about appreciating the little things around you and recognizing that we aren't those things. We will never outlive the nature around us. Plants, sand, water, etc., are all named here as elements of Sprague's isolation-induced epiphany.
Sprague's spoken word section is full of imagery:
My hair is dirty blonde now
And there are even little sea sand pieces in there probably
I wish there were none
Best Line
I have a few plants, but I have rescued exactly none
What Makes It Stand Out
The spoken word section is effective for a few reasons. Sprague uses it to address the world around her more naturally than if she were to sing, for one. But its length, and how it works as a song, is just good songwriting. I love it when artists and bands let songs develop for a while before finding its stride.
---
Clairo – https://twitter.com/clairo
Claire Cottrill is a 20-year-old singer, songwriter, and guitarist from Carlisle, Massachusetts
Pretty Girl definitely set off her career, but she's proven to be more of an indie rock star than a bedroom pop artist
We met at Pitchfork this year, about thirty seconds after I met Lindsey Jordan of Snail Mail. I didn't want to take up too much time, but I did manage to ask her about the rumors regarding Jordan and Sophia Allison of Soccer Mommy. It's happening, baby! Girlidiot, the spiritual sister of Boygenius, is a go.
Lyrical Analysis
Sofia is about Clairo's crush on multiple Sofias–Vergara, and Coppola. She intended on making the lyrics similar to other songs about gooey crushes. It also addresses the stigma of same sex relationships:
Sofia, know that you and I
Shouldn't feel like a crime
Best Line
I think we could do it if we tried
What Makes It Stand Out
The production by Rostam is certainly influenced by Julian Casablancas's work with The Strokes and The Voidz. I really like this direction Clairo is going. I know that Sofia is not what the sound of this upcoming album is going to be consistently, but this, to me, is the musical highlight of her career.
---
Cuco – https://twitter.com/Icryduringsex
A 21-year-old Mexican-American bedroom pop artist
Signed a seven-figure deal with Interscope
Influences/co-signs include Kevin Abstract of BROCKHAMPTON, Mac Demarco, and boy pablo
Lyrical Analysis
Far Away From Home is about someone whose absence from your life is always present–you just can't seem to escape them, even when you're alone in bed as he alludes to here:
In the morning, with nobody next to me
In my bed, in my bed
So lonely, will somebody come and help?
I'm rotting in the image of my head
The emotional weight of the song is not the lyrics. The guitar solo is him releasing these bottled emotions. The little piano flaw that's left in at 4:07 shows that getting over someone is not linear. You're not going to just get better everyday until she's gone. You'll have days where it hits you.
Best Line
I'm far away from home, but I'm sure I know she knows
What Makes It Stand Out
It was really a tough decision between this and number one this week. I think that the instrumental section of this song is so perfectly done. From a production standpoint, it reminds me of Kevin Abstract's American Boyfriend.
---
Rich Brian Bio: https://midnightsurprise.blog/2019/07/26/top-five-tracks-of-the-week-july-15-july-21/
I gotta add a few things about Rich Brian. His new album, The Sailor, is absolutely tremendous. It's the best rap album of the year. It's better than PSYCHODRAMA, IGOR, ZUU, and he didn't even have to capitalize the title!
I think it might be the best rap album EVER by a non-black artist. I think that would be an interesting discussion.
Lyrical Analysis
The Sailor is about Brian's perspective as a rapper and how one ignorant racist can derail your day.
As much as I admire Florist's lyrics, Brian's lyrics are visceral. You feel everything he says. Where Florist feels like you're watching Before Sunrise, Brian is like you're living Do The Right Thing.
There is a massive shift, tonally and lyrically, in the latter half of The Sailor.
The moment Brian is the recipient of a racist's crude joke, you get what theme will be at the center of this album.
A young girl walked up the street, came up right next to me
She looked me up and down with curiosity
Like I was standin' there, but not where I was supposed to be
She cracked a smile and said, "Open your eye"
"Uh, uh, what the fuck are you talkin' about? I can see just fine"
"No, mister," she said, "but can you answer this question of mine?
Where do we go when we die?
What is the color of blue if there isn't a sky?
What is the meaning of life?
What is a life if a moment can end in the blink of an eye?"
Best Line
She cracked a smile and said, "Open your eye"
What Makes It Stand Out
Everything. Seriously.
Nothing about this is ordinary.
My favorite section is definitely the second half, but more specifically the vocals at the end. I've heard comparisons to Queen and The Lemon Twigs (me, I made that comparison), but I think that the most immediate connection I got was to The Beatles's Because.
Brian Imanuel, at only 19, just released one of the most dynamic albums of the year and my favorite rap record since Denzel Curry's TA1300.
---
Honorable Mentions
6. I'll Be Back Someday – Tegan and Sara
7. Shawshank [Feat. Tate Kobang] – Denzel Curry, Tate Kobang
8. Hot Shower – Chance the Rapper, MadeinTYO, DaBaby
10. RNP (feat. Anderson .Paak) – YBN Cordae, Anderson .Paak
11. 24 – IDK
12. Real Long Time – White Reaper
13. Post Mates (feat. Cautious Clay) – Jarami, Cautious Clay
14. Big Wave – 116, Parris Chariz, Lecrae